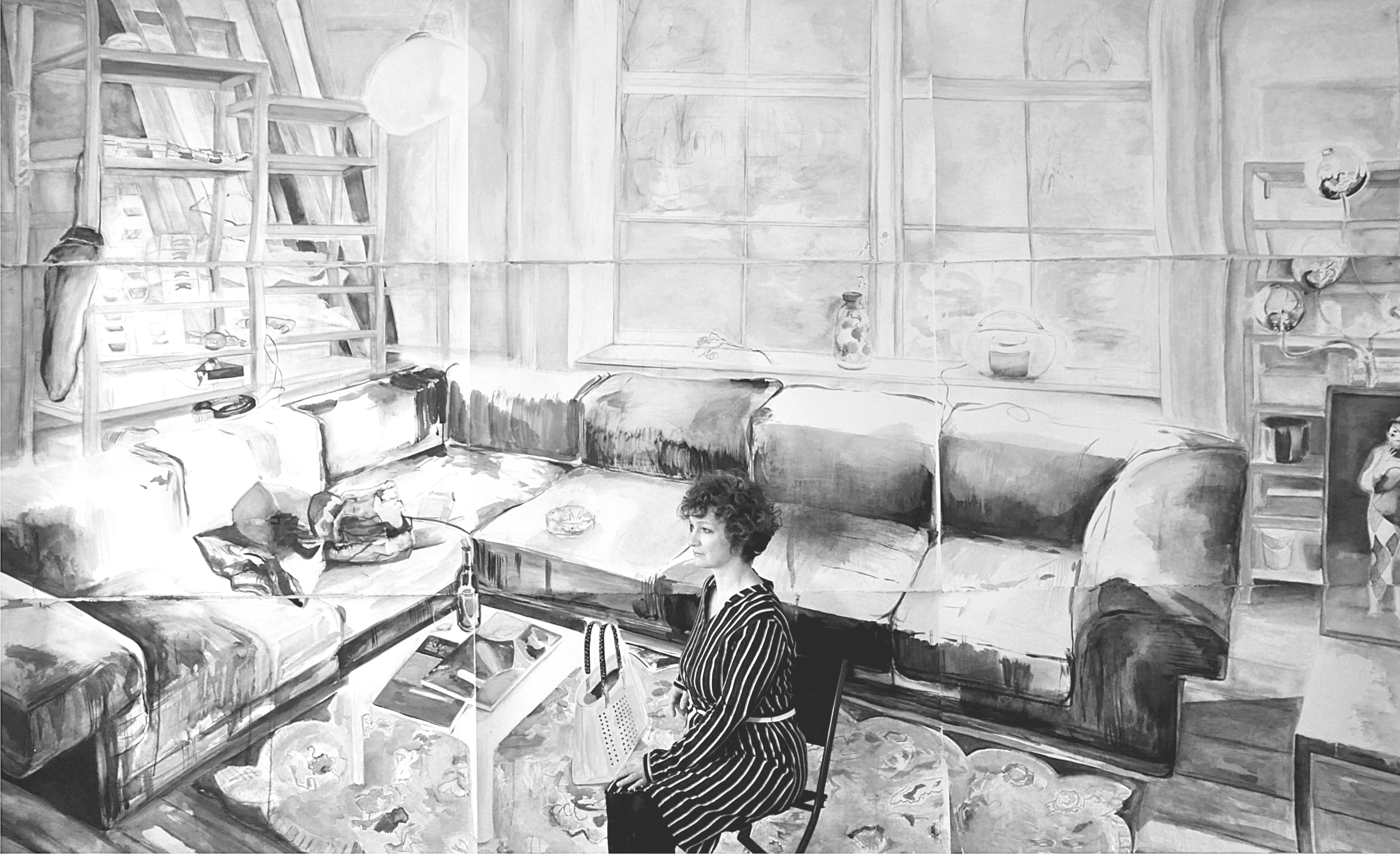 Bei Jakob Lena Knebl und Hans Ashley Scheirl, 2019, Aquarell und Tusche auf Bütten,neunteilig, 460x285cm



Künstlerstatement




Malend eigne ich mir die Welt an. Dieser sinnlich-schaffende Aneignungsprozess offenbart sich in meinen Bildern auch. Personen selbst bleiben ausgespart, doch lassen sie sich durch die Darstellung ihrer Lebensräume und der Artefakte darin gleichsam Phantomen erahnen.

Vom Dialog mit KünstlerInnen in ihren Ateliers erzählt das neunteilige Aquarell von Jakob Lena Knebls und Ashley Hans Scheirls Praterbildhaueratelier aus der Serie der PORTAITS. Die lebensgroß gemalte Couch, ein Lieblingsstück der beiden KünstlerInnen: Sie lädt ein, Platz zu nehmen und ins Gespräch zu kommen. Als säßen sie noch dort.

Meine neuesten Arbeiten sind malerische Transformationen von öffentlichen Räumen. Seit 2019 beobachte ich städtebauliche Veränderungen, dokumentiere sie und setze sie in großformatige Mixed Media-Arbeiten, der Serie SMART CITY, um: Elegien schmerzhafter Verlassenheit und fossilierter Wunden, die im Prozess der Unterdrückung der Natur durch zivilisatorische Begehrlichkeit auftreten.




Artist statement




Through painting I assimilate the world. And this sensual, creative assimilation process manifests itself in my paintings. The people themselves are omitted and yet,phantom-like, they can be sensed through the depiction of their living spaces and the artefacts within them.

The nine-part watercolour (290x460 cm) of Jakob Lena Knebl's and Ashley Hans Scheirl's sculpture studio in the Viennese Prater from the series PORTRAITS speaks of this dialogue with artists in their studios. The couch, painted in life-size, is a favourite of the two artists. It invites us to take a seat and to start a conversation, as if they were still sitting there.

My most recent works are painterly transformations of public spaces. Since 2019 I have been observing changes in urban development. I document these changes and turn them into large-format mixed-media works, the series SMART CITY: elegies of painful desertion and fossilised wounds, which appear in the process of the subjugation of nature through civilisational desires.